Eli lives by his own rules and bows to no one, even when summoned before the Tribunal Seven. They deem the hunter has lost his humanity and sentence the angel to earth with one mission: find some compassion or be condemned to Hell.
Ashley considers herself a freak. With one glance into a person's eyes, she foresees their death. When an attack brings a handsome stranger to her rescue, she can't help but be drawn to his steel-blue gaze.
Fate will bring them together but desire could bond them for eternity.
Ashley wandered through Eli's bedroom, noting how bare it was. Except for a queen four-poster bed, a dresser, and a fireplace, there was nothing else here. She wondered how lonely he must have been to never make a real home in one place. Eva had told her this small cabin in the north woods was always his favorite and that was why she'd asked to be brought here.
After stoking a fire, she donned the short red nightie that hardly covered her breasts and left her long legs exposed. There was no way he could resist, not if he were half as needful as she, and something told her he would be more so. She hoped he'd be so lust ridden he'd complete the bond. Guilt filled her for what she was about to do, but she'd do anything to save him. She'd worry about the aftermath later.
The double-winged tattoo on the back of her hip burned, and she'd learned it meant Eli was close by. Was he watching from a distance? She stepped into the soft light of the fire, knowing it cast a sensual glow across her skin. Yeah, she was pulling out all the stops. A cool breeze whispered across her skin causing her nipples to tighten.
She turned, and when her gaze fell upon him standing in the shadows she gasped. His naked chest glistened in the firelight that reflected across the room. A thick rope of muscles coiled just under his skin, and her fingertips itched to touch him. Dark jeans, settled so low on his hips, she could see the dusting of hair that led to his sweet spot. However, it was the massive black wings that stretched out and brushed the ground that really drew her attention. Her fallen angel was dark and sinister, yet every fiber of her being said he'd never harm her. He'd come to her and she was determined to finish what they'd started.
She was determined to save his soul.
"Eli." She took a step closer.
He flashed a set of fangs. "I've never been weak in my entire life, but with you… You are my weakness. Look at me Ashley, I'm one step away from claiming you. Being mated to me will be a fate worse than death."
Another step. Careful not to scare him off, she stopped short of being able to reach out and touch him. Opening her mind, he could feel everything she did should he choose to. "You're wrong. Walking away from you would be a worse fate. You've touched something deep inside me. Fate brought us together because we need each other." She took the last step and placed her hands on his chest. He stiffened beneath her touch.
"I need you and I don't mean just the physical. I mean emotionally as well. You have my heart as well as my body. All of me, it belongs to you."
His adam's apple rose and fell then he gripped her waist and tugged her close. He bent his head and slanted his mouth over hers. Sucking her bottom lip through his teeth, he gave a nibble; his fangs gently scraped her sensitive flesh before his tongue slipped inside. She dragged her nails down his chest, and he deepened the kiss. They both became lost in the moment.
Eli broke the kiss and licked his way down her neck and across her clavicle. Ashley tipped her head back on a moan.
"You have on too many clothes," he whispered.
"Then I suggest you get rid of them," she urged.
He wasted no time. Gripping the top of her nightie, he ripped it wide open then shoved the satin material off her shoulders and let it drop to the floor. She stood before him, her body bathed in only the firelight.
"You should be laid out on a bed of silk and worshipped. Instead, I tear your clothes from your body." He unbuttoned his jeans and shoved them to the floor, stepping free from them before he kicked them aside. She started to reach for his erection, but he spun her and pinned her back against the wall. "I can't stop myself. I'm so damn cold, and I need to feel your warmth wrapped around me."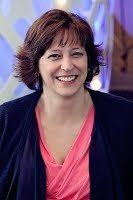 Award winning and bestselling author Valerie Twombly grew up watching Dark Shadows over her mother's shoulder, and from there her love of the fanged creatures blossomed. Today, Valerie has decided to take her darker, sensual side and put it to paper. When she is not busy creating a world full of steamy, hot men and strong, seductive women, she juggles her time between a full-time job, hubby and her two German Shepherd dogs, in Northern IL. Valerie is a member of Romance Writers of America and Fantasy, Futuristic and Paranormal Romance Writers. She is also the founder of Sexy Scribblers, a group of romance writers who bring readers new and fresh stories every month.