HAPPY HALLOWEEN TO ALL! Here's a review of A Monster Calls to celebrate Halloween. :)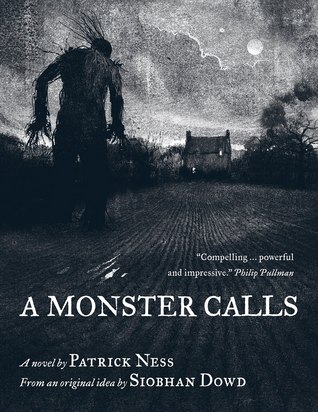 Title: A Monster Calls
Author: Patrick Ness, Siobhan Dowd (Concept), Jim Kay (Illustrator)
Release date: September 27th 2011
Released by: Walker Books
Purchase on Amazon
SUMMARY:
The monster showed up after midnight. As they do.
But it isn't the monster Conor's been expecting. He's been expecting the one from his nightmare, the one he's had nearly every night since his mother started her treatments, the one with the darkness and the wind and the screaming...
This monster is something different, though. Something ancient, something wild. And it wants the most dangerous thing of all from Conor.
It wants the truth.
REVIEW:
It's been so long since I've read a MG book. I'm all about YA for the past year and some NA on the side, but I have faith in Patrick Ness. I will read anything and everything that Patrick Ness on it. The guy has never disappointed me, and A Monster Calls is no different.
This book made me cry like a baby. The story proper hadn't even started and I was already bawling my eyes out. I've always wanted to read A Monster Calls ever since I read The Knife of Never Letting Go. I bought a copy online but our local post office didn't deliver the book to my house until I completely forgot about it. I didn't know about Siobhan Dowd prior to reading this. I just thought that she collaborated with Patrick Ness to write A Monster Calls, which was why I was all the more excited to dive into the story to see how Ness fared with a co-author. Then I read the About the Author section of the book and then I just started crying.
The story of A Monster Calls was Siobhan's idea but she passed away before she was able to write it. Ultimately, I'm just so glad that Patrick agreed to give life to it. The theme of the book is surrounded by death and so what happened to Dowd, and with Ness continuing what she left gave the emotions I felt more legitimacy.
When children get scared, it's almost always because of monsters. How many kids have we heard ask their parents to look into the closet or under their beds for monsters? The very fact this kid, Conor, is not afraid of them already sounds strange but the reason for this broke my heart. What kind of evil is scarier than the monster that regularly visits him?
Conor is an incredibly smart kid for his age. Although he was in constant denial, he knew deep inside what was going to happen to his mother. I was amazed by his understanding of it despite his age, but heartbroken because with his denial came hope that his mother would get cured and all the while expecting the opposite outcome.
This Monster that comes to Conor at exactly 12:07 tells him stories, claiming that it comes to people who call him for help, but who called him, Conor didn't know. Even I was surprised to know who called the Monster, because from his stories you wouldn't know which of the characters needed the real help.
I usually dislike open-ended stories, but A Monster Calls is an exception. Even though it's open-ended, you can pretty much guess what's going to happen. So, by the ending, my heart = broken.
Overall this is a very short, but a very powerful read. But honestly, the fourth story kinda didn't live up to my expectations but still, the emotions were still there and it's a combination of both the sorrowful and the bittersweet kind of sadness. The only happiness I felt was from being able to read such a good story!
RATING: 4.5 Fairy wings