Happy Release Day to Spark (the Death Collectors Young Adult version) and Spark X (the the Death Collectors New Adult version) by Jessica Sorensen. Check out a teaser from the New Adult version below and make sure to enter the giveaway for a chance to win an ebook copy of one of these books! Good luck!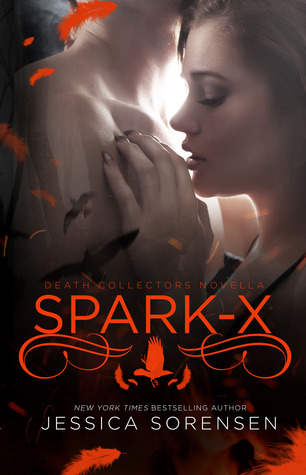 Now that Ember is a Grim Angel, she's facing the biggest challenge of her life. Not only does she have to decide if her heart lies with Asher or Cameron, but she has to make a choice that could alter the fate of the world.
**Mature Content Warning** 17+ for language and sexual content.** (New adult paranormal version of my young adult book, Spark (Death Collectors, #3). It contains more violence and more sexual content.)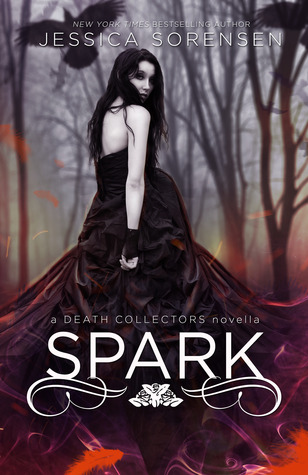 Now that seventeen-year-old Ember is a Grim Angel, she's facing the biggest challenge of her life. Not only does she have to decide if her heart lies in Asher or Cameron, but she has to make a choice that could alter the fate of the world.
(This is the young adult version of Spark X (Death Collectors, #3).


**from Spark X - the New Adult Version**
Prologue
Asher
I've been in love with Ember Rose Edwards for a while, but she doesn't know it. I can't tell her, either, not when the battle's ending solely rests on her making a choice and sacrificing someone she loves. If I were to divulge how I feel, I'd be interfering even more, and I've already been banished for entering her life. It's not something I regret. I made the choice the day I first saw her. I wanted her in my life, regardless of the consequences. That day feels like such a long time ago, yet it hasn't been more than a few months. So much has happened since then. So much has changed, for the better and the worse. God, we were both so different back then. As I sit beside her bed and watch Ember sleep, my thoughts drift back to the day when I first laid eyes on her…
I was sent to that place to collect a soul, but what I didn't expect was that I'd end up at a house crammed with a ton of humans, dry humping the shit out of each other. I had instantly wanted to get the hell out.
A rock song plays on the stereo and floats across the room full of people dancing. Beer cans and cups cover the floors, and the air is drenched with the stench of cigarettes. It has been a long week. Michael, the leader of the Angels, has sent me on a total of five missions to collect souls, which is a large amount compared to most Angels. Then again, Michael has never been a fan of me, considering I have Reaper blood.
My sole purpose tonight is to wait until the person dies then collect their soul before the Reapers get ahold of it. I've already spotted three Anamotti, and I'm guessing they're here for the same reason I am—waiting for the person to pass away.
I sense a fight in the air, thick and heavy, like tar.
I lean against the wall near the corner, watching the crowd, drinking a beer, eager for the night to be over. As my gaze travels over each human, I wonder which one of them is the unlucky person who will die tonight. Humans are so fragile, so...
The air suddenly thins and charges with electricity, full of life and death mixed together. My attention drifts to the side of me, my senses sharpening as I zero in on a girl. Ember Rose Edwards. Her name comes to me like a breath of fresh air.
I've never met her before, but know her name for solely one reason—she carries Angel blood, just like she carries Reaper blood.
Sadly, I haven't crossed paths with a Grim Angel in a while, because Reapers are making them a dying breed. Usually, I pass by without so much as a second glance, despite my connection to them. This time, though, I find myself staring. One, two, three songs go by, and I still can't seem to take my eyes off her.
She's gorgeous, to say the least. Dark hair flows down her back, skin as pale as snow, full lips as red as a rose, and big, hazel eyes. But her beauty isn't the only thing that captures my attention. It's the pain hidden in her eyes, masked beneath her strength.
Her attention is fixed on the throng of dancing people, and she looks as uninterested as I felt until I laid eyes on her. She keeps her distance, too, probably because of her Grim Angel ability to see death with a touch.
I know I should stay away. Let her be. I'll be breaking a lot of rules if I interfere with her life, but I find myself moving in her direction, drawn to her.
When I reach her, I whisper the first thing that comes to mind. "God, it's like mating season in here."
She shudders from the feel of my breath and stumbles forward, stomping on the toe of my boot. As she regains her balance, her gaze whips in my direction and slowly travels from my boots to my shirt then finally rests on my eyes. She swallows hard as our gazes lock, and I realize she is afraid of something.
"Sorry, I didn't mean to frighten you," I apologize quickly.
She shivers again then clears her throat. "Sorry about your shoes." She starts to back away nervously. "Crowded rooms just make me a little uneasy."
I chuckle, crunching the empty cup in my hand and chucking it into a nearby trashcan. "I know what you mean. All this"—I gesture at the people dry humping one another—"is an excuse for the opposite sex to rub up on one another."
"That's a pretty good observation." She almost smiles, and I feel like I won the lottery or something.
Pressing my lips together, I inch closer and lean over her shoulder. She stiffens from my nearness, probably worried I'll touch her and force her to see my death. I won't put her through that, though, so I make sure to leave a sliver of space between us.
"Take those two for instance." I point at a girl with pink hair dancing with a gangly guy. He moves with a huge lack of coordination, while the girl is graceful, looking bored as hell. "I think they've got their own mating ritual going on. Although, I think it might be a one-sided mating ritual."
She tracks where I'm looking. "I think you're right." She turns to me, and for a moment, the pain in her eyes vanishes and pure lust flashes, instead. "It looks like she's bored."
My heart thuds deafeningly inside my chest from the look of desire in her eyes directed at me. "Is she a friend of yours?"
She nods, biting her lip contemplatively. "Her name's Raven."
I cock my pierced brow. "Like the poem?"
"You know Edgar Allan Poe?" He face lights up with excitement.
Jackpot. The girl has it bad for the dead poet, who I vaguely remember meeting two centuries ago.
"A little bit." I stare at her beauty, trying to figure out what to do next. I know what my body wants to do with her, and my mind seems to be veering toward the same thing. Regardless, I'd be in a shitload of trouble for touching her. Fuck, even this conversation is going to get me into trouble.
"What's your name?" I ask, trying to act as normal as I can.
"Ember." She scoots forward, holding her breath as a girl stumbles by, having a drunken conversation with the air.
"Ember … I like it." I dare a step or two closer and breathe in the faint scent of her—roses with a hint of lilies. " 'And each separate dying ember wrought its ghost upon the floor,' " I quote the one line I can remember from Edgar Allan Poe's "The Raven."
"I thought you said you knew a little?" she asks me, impressed.
I shrug, stuffing my hands into my pockets. "What can I say? I'm fascinated with the idea … love, death, and the insanity it brings."
She grows uncomfortable with my mention of death, and her eyes anxiously sweep the crowd as if she's seeking an escape. I can't have her leave just yet. I need to keep her here a little longer. I don't want her to go.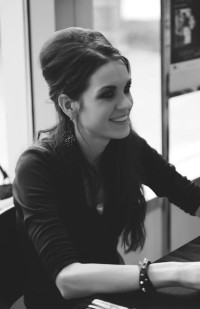 Jessica Sorensen is a New York Times and USA Today bestselling author from the snowy mountains of Wyoming. When she's not writing, she spends her time reading and hanging out with her family.
Facebook | Twitter | Website | Goodreads
---

a Rafflecopter giveaway
♥SERIES READING ORDER♥
The Death Collectors New Adult Version
The Death Collectors Young Adult Version