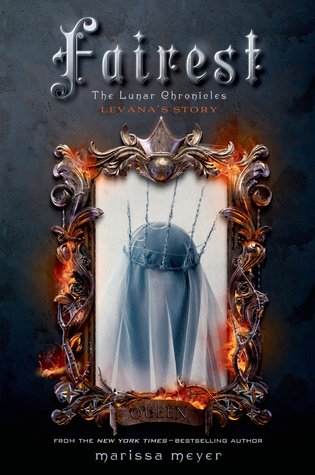 Title: Fairest
Author: Marissa Meyer
Format: Hardcover, 256 pages
Release date: January 27th 2015
Published by: Feiwel & Friends
Summary:





In this stunning bridge book between Cress and Winter in the bestselling Lunar Chronicles, Queen Levana's story is finally told.



Mirror, mirror on the wall,
Who is the fairest of them all?



Fans of the Lunar Chronicles know Queen Levana as a ruler who uses her "glamour" to gain power. But long before she crossed paths with Cinder, Scarlet, and Cress, Levana lived a very different story – a story that has never been told . . . until now.





Marissa Meyer spins yet another unforgettable tale about love and war, deceit and death. This extraordinary book includes full-color art and an excerpt from Winter, the next book in the Lunar Chronicles series
Get it on Amazon!
Here is what I think of love.
This book. Um, wow. Just… wow.
I was almost disappointed when I first heard that Fairest was going to be about Queen Levana's past. She's basically one of the most cruel villains in the YA world and I couldn't stomach the thought that the author might justify whatever twisted personality she has now because that's usually what happens when the villain gets a whole novella dedicated to him/her. But no worries, because Meyer didn't go down that path (thank goodness!). In fact, this novella just solidified my impression of Levana as the nasty, selfish, insane, sadistic, manipulative, psychopathic, power-hungry woman that she is. And. I. Love. Her!
But hold! She maybe all kinds of crazy and though Fairest doesn't justify her, it helps understand her character better, which is a little freaky. Imagine this psychopath of a woman doing all sorts of nasty. You know it's wrong and she looks pathetic but you don't sympathize with her and yet you understand her. One can't argue that part of her insanity is result of how she was brought up. I thought maybe Channary, Cinder's mother, would be different but she's even worse than Levana. Channary is a little stupid in the head and she did a lot of awful things to people BUT even more horrible things to Levana. Despite that, Levana never did anything revolting to her sister.
One thing that surprised me the most in Fairest is the existence of Levana's love interest. Who would've thought that this crazy woman is capable of falling in love? But thinking back to the story, I can't help but ask; was it really love? After all,
Here is what I think of love.
Levana has a different definition of love, but still, I want to believe that her feelings for Evret were genuine and if there's one moment in the entire book that I felt compassionate towards her was when she finally realized the truth of the love between her and Evret. But it still doesn't change the fact that the woman is vile.
Fans of Lunar Chronicles, DO NOT even consider skipping this novella. Trust me, it's worth every single second of your day!
RATING: 5 Fairy wings
One of my first spoken words was "story" (right along with "bath" and "cookie"), my favorite toy as an infant was a soft, squishable book, and I've wanted to be a writer since I first realized such a job existed.
When I was fourteen my best friend introduced me to anime and fanfiction—over the years I would complete over forty Sailor Moon fanfics under the penname Alicia Blade. Those so inclined can still find my first stories at fanfiction.net. Writing fanfic turned out to be awesome fun and brought me in contact with an amazing group of fanfiction readers and writers. As Alicia Blade, I also had a novelette, "The Phantom of Linkshire Manor," published in the gothic romance anthology Bound in Skin (CatsCurious Press, 2007).
When I was sixteen I worked at The Old Spaghetti Factory in Tacoma, Washington, affectionately termed "The Spag." (Random factoid: This is also the restaurant where my parents met some 25 years before.) I attended Pacific Lutheran University where I sorted mail that came to the dorm, carted tables and chairs around campus, and took writing classes, eventually earning a Bachelor's degree in Creative Writing and Children's Literature. Knowing I wanted a career in books, I would also go on to receive a Master's degree in Publishing from Pace University (which you can learn more about here). After graduation, I worked as an editor in Seattle for a while before becoming a freelance typesetter and proofreader. Then, day of days, someone thought it would be a good idea to give me a book deal, so I became a full-time writer. CINDER is my first novel, though I have an adorable collection of unfinished ones lying around too.
I now live with my husband and our three cats (Calexandria Josephine, Stormus Enormous, and Blackland Rockwell III), who go in and out, in and out, about eight hundred times a day. My favorite non-bookish things include Reese's Peanut Butter Cups, re-watching episodes of Firefly, and playing all manners of dress-up.