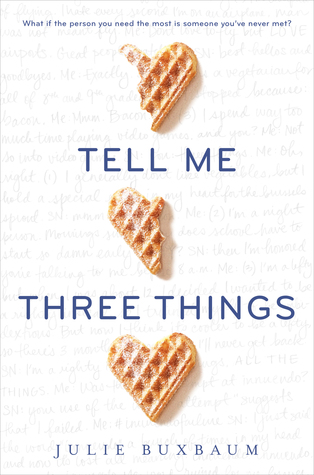 Title: Tell Me Three Things
Author: Julie Buxbaum
Publication date: April 5th 2016
Published by: Delacorte Press
Source: ARC from the publisher
ISBN: 9780399552939
Summary:
Everything about Jessie is wrong. At least, that's what it feels like during her first week of junior year at her new ultra-intimidating prep school in Los Angeles. Just when she's thinking about hightailing it back to Chicago, she gets an email from a person calling themselves Somebody/Nobody (SN for short), offering to help her navigate the wilds of Wood Valley High School. Is it an elaborate hoax? Or can she rely on SN for some much-needed help?
It's been barely two years since her mother's death, and because her father eloped with a woman he met online, Jessie has been forced to move across the country to live with her stepmonster and her pretentious teenage son.
In a leap of faith—or an act of complete desperation—Jessie begins to rely on SN, and SN quickly becomes her lifeline and closest ally. Jessie can't help wanting to meet SN in person. But are some mysteries better left unsolved?
Julie Buxbaum mixes comedy and tragedy, love and loss, pain and elation, in her debut YA novel filled with characters who will come to feel like friends.
Author Links: Twitter | Goodreads | Website
Review:
You know that feeling when you've just finished reading a book and you look up away from it and into reality, and then suddenly you feel like the world somehow has just become a better place? Like you feel so much lighter and happier as if the world has become more colourful, and assured like everything in your life is going to be alright? Because that was how I felt after reading Julie Buxbaum's
Tell Me Three Things
. This isn't the first time I've felt that way about a book but word knows how long it has been since I've read a book that made me feel like a unicorn happily farting endless rainbows but I tell you;
it feels so goddamn good
.
Jessie and her father moved from Chicago to Los Angeles two years after her mother died which meant that she had to leave the life she has established behind including her house, school, and best friend to make new ones in her new house and new school. Problem is, Jessie is not even making a "new" life in the home she and her father moved into. To Jessie, it felt more like she's intruding into somebody else's already established life. She felt like she doesn't belong--both in the house and in school. For starters, she hasn't even totally moved on from her mother's death. As well, she doesn't get along well with her stepmother and stepbrother, and someone's even bullying her at school. She had no one to turn to but then, a stranger by the name of Somebody Nobody or SN started messaging her and gives her advice on how to survive her new life and how to cope with losing someone you love.
Jessie is, hands down, a lovable character. Her situation makes it hard not to sympathize with her and then she has this self-deprecating humor that while makes me feel sorrier for her, also makes me adore her so much. I could read her narration all day everyday and probably never get bored. Jessie is an effortlessly funny character, her emotions are honest and so real, and she. is. very. relatable. This whole book is relatable, actually. Even though I haven't experienced half the things Jessie went through, it still felt like her emotions were mine.
One of the things that I always anticipated though, was Jessie's conversations with SN. No matter how short and light their conversations sometimes are, they always leave an impact. And I get so friggin' giddy when they chat even when they're only talking about nonsensical stuff. Also, I love how it shows how different people can be in person. Though, SN's identity isn't pretty difficult to guess but I admit there were moments, several, actually, that made me second guess but when it was finally revealed, I breathed a HUGE sigh of relief.
Tell Me Three Things is one of those books that while not overly dramatic, still made me emotional and even brought tears to my eyes. It's proof that you don't need a book driven with tragedy to make somebody cry. That book just needs to be beautiful in plot, beautiful in characters, and beautiful in writing and to be honest, Tell Me Three Things have all of that.
With all that said, Tell Me Three Things is a special book to me. Made even more special because it was the first book I've read this year and the first 2016 book in my favorites shelf. On the first day of January while admiring my bookshelf, I made a pact with myself that the first book I should read for the year 2016 was supposed to be a good one. I wasn't even hoping for it to be a great book. I just wanted something that I wouldn't abhor. Without second-thoughts, I picked up Tell Me Three Things, started reading it and before I knew it, it was over. Note that since then, I reread this thrice (the last one to refresh my memory for this review) and everytime it keeps getting even more cute and adorable.
So. If you want to feel like a unicorn happily farting endless rainbows then you know what to do. Grab a copy of Tell Me Three Things and let the rainbow farts ensue~ *wink*
On the cover:
I rarely talk about book covers here but I just have to comment about how cute Tell Me Three Things' cover is because WAFFLES! I really want you all to read this book just so you know how important waffles are in this book. And the gray writings in the background which are actually snippets from SN and Jessie's conversation is a cool addition.
Rating: 5/5 Fairy wings!!