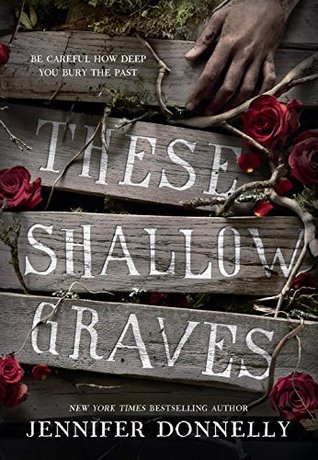 TITLE:
These Shallow Graves
AUTHOR:
Jennifer Donnelly
RELEASE DATE:
October 27th 2015
PUBLISHED BY:
Random House Delacorte Press
SOURCE:
Publisher for review
PURCHASE:
Amazon
SYNOPSIS:
Jo Montfort is beautiful and rich, and soon—like all the girls in her class—she'll graduate from finishing school and be married off to a wealthy bachelor. Which is the last thing she wants. Jo secretly dreams of becoming a writer—a newspaper reporter like the trailblazing Nellie Bly.
Wild aspirations aside, Jo's life seems perfect until tragedy strikes: her father is found dead. Charles Montfort accidentally shot himself while cleaning his revolver. One of New York City's wealthiest men, he owned a newspaper and was partner in a massive shipping firm, and Jo knows he was far too smart to clean a loaded gun.
The more Jo uncovers about her father's death, the more her suspicions grow. There are too many secrets. And they all seem to be buried in plain sight. Then she meets Eddie—a young, brash, infuriatingly handsome reporter at her father's newspaper—and it becomes all too clear how much she stands to lose if she keeps searching for the truth. Only now it might be too late to stop.
The past never stays buried forever. Life is dirtier than Jo Montfort could ever have imagined, and the truth is the dirtiest part of all.
REVIEW:
Josephine Montfort's determination and unconventional way of thinking in a society that thinks that the essence of a woman is to be wed to a wealthy man made her automatically likeable for me. She doesn't succumb to the expectations of society on women and instead, she fights for her freedom. Jo wants to become a newspaper reporter, not to be married off to some rich guy she didn't to choose to marry. Then her father dies of an alleged accident. Her life is suddenly thrown into a roller coaster ride when rumors of his death points to murder instead, and Jo asks the callous reporter Eddie to help her solve the mystery of her father's death.
Reading the reviews, I noticed that almost everyone pointed out how predictable the mystery was, but I thought the twists were very misleading and so I didn't predict it at all. But I can't even bring myself to be mad because I was so pleasantly surprised when the murderer was finally revealed. And boy, do I think it was a good mystery.
Other than that, I also thoroughly enjoyed the dynamics between Jo and Eddie. Also, 100x YES to the romance! Like oh gods, I melted everytime Jo and Eddie talked. Bram was a nice guy and all, and a likeable character at that but it was Eddie that made my heart skip a beat. I craved for Jo and Eddie's playful banters. They made me giggle like a schoolgirl chatting with her crush.
The development of Jo and Eddie's romance was sweet but I admit it tends to be all over the place too. One moment, they hate each other and the next they're kissing and then they hate each other again. I can't say I don't like that though because in a way they're so alike but different altogether with her being a wealthy aristocrat and him being a poor reporter. But that only made me head over heels in love with their relationship. Eddie is very callous. He doesn't care that Jo is a rich kid and a girl at that. He continuously challenged her in a way that brought out the best in her.
I'm so happy how These Shallow Graves turned out. The plot is very complex but Donnelly's execution of it was very well done. It was smooth and every loose ends were tied together at the end. Jo and Eddie are both well-written characters and the side characters are notable too.
I knew from the beginning that this was mystery and I'm saying this because the last time I read a book by Jennifer Donnelly, I didn't know jack about it so I ended up somewhat confused, but for These Shallow Graves, I read the reviews and the summary first before reading the book itself. Needless to say, the rave reviews and the premise got me excited for it and it did not disappoint at all! This is definitely one of the best books of 2015 for me.
RATING: 5 Fairy wings!
GIVEAWAY!
One (1) paperback copy of These Shallow Graves by Jennifer Donnelly
Open to Philippine residents only
a Rafflecopter giveaway