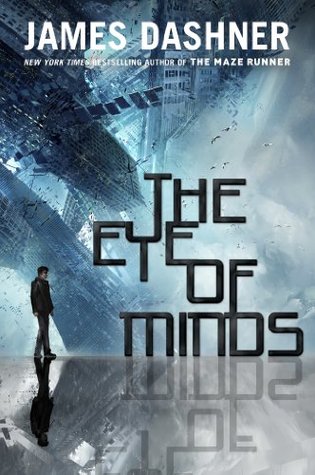 TITLE: The Eye of Minds
AUTHOR: James Dashner
SERIES: The Mortality Doctrine #1
RELEASE DATE: October 8th 2013
RELEASED BY: Delacorte Books for Young Readers
An all-new, edge-of-your seat adventure from James Dashner, the author of the New York Times bestselling Maze Runner series, The Eye of Minds is the first book in The Mortality Doctrine, a series set in a world of hyperadvanced technology, cyberterrorists, and gaming beyond your wildest dreams . . . and your worst nightmares.
Michael is a gamer. And like most gamers, he almost spends more time on the VirtNet than in the actual world. The VirtNet offers total mind and body immersion, and it's addictive. Thanks to technology, anyone with enough money can experience fantasy worlds, risk their life without the chance of death, or just hang around with Virt-friends. And the more hacking skills you have, the more fun. Why bother following the rules when most of them are dumb, anyway?
But some rules were made for a reason. Some technology is too dangerous to fool with. And recent reports claim that one gamer is going beyond what any gamer has done before: he's holding players hostage inside the VirtNet. The effects are horrific—the hostages have all been declared brain-dead. Yet the gamer's motives are a mystery.
The government knows that to catch a hacker, you need a hacker.
And they've been watching Michael. They want him on their team.
But the risk is enormous. If he accepts their challenge, Michael will need to go off the VirtNet grid. There are back alleys and corners in the system human eyes have never seen and predators he can't even fathom—and there's the possibility that the line between game and reality will be blurred forever.
REVIEW:
Before I start, I just want to tell you all about the ending of this book, because holy mother of everything that's holy, that is one hell of an ending. I had to reread some parts of the book immediately after finishing because I. DID. NOT. SEE. THAT. COMING! And I don't think anybody else saw that coming, too. I honestly had the urge to give this book a standing ovation. Truly mindblowing!
I was a little too excited for The Eye of Minds after reading Ernest Cline's Ready Player One – both are sci-fi set majorly in a virtual reality setting. Mind you, I read RPO about three months ago and I'm still having withdrawals until now. That's how good RPO is. And with Dashner's astounding The Maze Runner series, it's no surprise that I will be reading his The Mortality Doctrine series eventually too. Anyhow, maybe it's because I read James Dashner's The Scorch Trials just several days ago that's why the differences between this book and his previous series stood stark in my eyes. The Eye of Minds literally has no semblance compared to Dashner's The Maze Runner series both in terms of plot (of course) and writing style.
One of the things that I loved about Dashner's TMR is the writing style so I was initially disheartened upon realizing that this book has a much tamer style than his other series. There's still violence but not in the same level of TMR. Anyway, I should put emphasis on the "initially disheartened" part because even though The Eye of Minds is not comparable to The Maze Runner, it still has its own brand of mindblowing and that's about everything that's important.
That said, it's not surprising to say that I truly enjoyed reading this book however, there are still plenty of things that I would like to see given improvement to on the next book. The relationship between Michael, Bryson and Sarah for one was a bit lackluster. I admire a good friendship when I see it but the trio's dynamics felt superficial to me. I'd also like to see more about the world building inside the VirtNet though I think this is something that's bound to happen already. Other than that, James Dasher, thank you for blowing my mind away. Please do so again in the next book, please?
RATING: 4 Fairy wings!