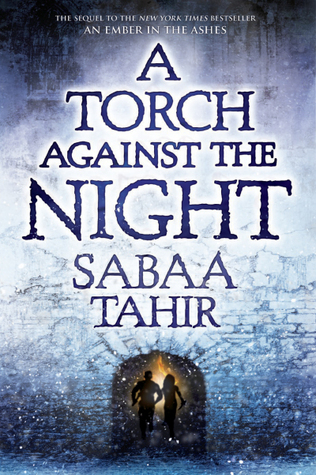 Title: A Torch Against the Night
Series: An Ember in the Ashes #2
Published August 30th 2016 by Razorbill
ISBN: 1101998873 (ISBN13: 9781101998878)
Synopsis:
Elias and Laia are running for their lives. After the events of the Fourth Trial, Martial soldiers hunt the two fugitives as they flee the city of Serra and undertake a perilous journey through the heart of the Empire.
Laia is determined to break into Kauf—the Empire's most secure and dangerous prison—to save her brother, who is the key to the Scholars' survival. And Elias is determined to help Laia succeed, even if it means giving up his last chance at freedom.
But dark forces, human and otherworldly, work against Laia and Elias. The pair must fight every step of the way to outsmart their enemies: the bloodthirsty Emperor Marcus, the merciless Commandant, the sadistic Warden of Kauf, and, most heartbreaking of all, Helene—Elias's former friend and the Empire's newest Blood Shrike.
Bound to Marcus's will, Helene faces a torturous mission of her own—one that might destroy her: find the traitor Elias Veturius and the Scholar slave who helped him escape…and kill them both.
Review:
"But you... are no swift-burning spark. You are a torch against the night — if you dare to let yourself burn."
After reading A Torch Against the Night, I am inclined to believe that Sabaa Tahir knows no chill, because holy freaking wow! I was on the edge of my seat pretty much from the beginning until the end despite the slow pacing in some parts and even after the book ended, it was still pretty difficult to wrap my head around the fact that all of that happened in just one book. I couldn't even fangirl after THAT happened in the end. I was left completely speechless. Just, holy wow.
A Torch Against the Night picks up immediately after the mind-blowingly frustrating-but-in-the-best-way cliffhanger that was An Ember in the Ashes. In this book, Tahir immediately thrusts her readers into a series of jaw-dropping events that are only followed by even more intense acts and revelations. I find this even more aggressive and violent than the first book, to be honest. And I love it! There are so many twists and turns along the way, too, that I thought could have potentially ruined the plot, because too much isn't always good, right? But Tahir executed them all very well so as to feel natural to the story and not forced at all - to my extreme pleasure.
I also found myself loving Elias even more. It's honestly difficult not to when you know all the things he gave up and suffered through mainly because of Laia and for Laia. It broke my heart. Laia, however, is the opposite of Elias. It was difficult not to dislike her. She made so many inappropriate decisions that I thought were out of character and they broke my heart too. Helene, though, is still my favorite person in this series. I loved her the most in the first book and I love her even more here. As much as I like Laia and Elias – ugh, their slow burn romance is really killing me! – I think Helene and Elias could work really well to.
These characters went through so much mental and emotional changes – both negative and positive – and it's both heartbreaking and amazing. I had to stop reading in some parts because they were literally so hard to accept. Like I'd stare at the book for a few minutes and ask myself, "Is this really happening?" before continuing on with the reading.
Truly, A Torch Against the Night knows no bounds when it comes to unpredictability whether it's the good or the bad kind. But despite all that, in the grand scheme of things, the fact that I read this in one sit speaks volumes as to how utterly gripping this masterpiece that Sabaa Tahir created. I liked An Ember in the Ashes, but A Torch Against the Night tops it! I know that's an unpopular opinion but I digress. Needless to say, I am really looking forward to all the future conflicts and revelations these characters are going encounter because I know they're bound to be explosive.
A review copy was received from Penguin Random House International for free in exchange for an honest review
Rating: 4.5 Fairy wings